Attorney Paul Massa is now helping clients have their New Orleans mobile phone texting and social media traffic tickets dismissed or reduced to a nonmoving violation not appearing on their driving record.

My legal practice focuses on traffic tickets, including mobile phone texting, instant messaging and social media tickets throughout Louisiana.



Please fill out the FREE CONSULTATION FORM or call 504-975-6606 to start the simple process of retaining the legal experience of New Orleans traffic ticket lawyer Paul Massa for your texting ticket. I will provide to you an immediate FREE quote for your consideration.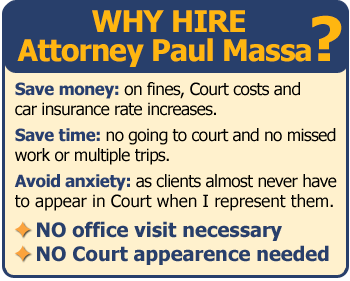 Using a smart phone or mobile device to communicate via texting or other non telephone call functions like: email, instant messages and internet browsing, including a social media website like Facebook while driving in New Orleans can now result in a traffic citation. This ticket is consdiered a moving violation and can ruin an otherwise good driving record and raise your car insurance rate for years. When ignored entirely, that can be grounds for an arrest during your next traffic stop; inconvenient and expensive to say the least.
I prevent these avoidable consequences by representing my clients texting, email and instant messaging tickets in court to relieve them of these problems and the anxiety and aggravation that a day in traffic court can be. I defend persons accused of all types of traffic offenses, including smart phone and social media tickets, from any state and in all courts in Louisiana.
My law practice is dedicated to defending people accused of all types of traffic tickets, speeding tickets, hit and run investigations, DWI's, driving while license suspended, CDL's occupational driver's licenses and other municipal and state traffic, car and semi-truck cases across the state of Louisiana. If you or a loved one has been issued a citation in New Orleans for using a mobile phone for texting, it is essential for you to have competent traffic ticket legal representation to protect your rights and your driving record.
In most traffic violation cases, there is no need for unnecessary meetings at my office or even the need for you to appear in court for your hearing. Simply use the free consultation form on this website to submit your New Orleans mobile device texting ticket information. I will send you an email with an offer to represent, if you accept the offer I do all the work and appear on your behalf. It's that simple.
Questions? Please watch our short video on the easy process of submitting your red light ticket for a free case review.
An overview of the new Louisiana texting and social media prohibitions
§300.5. Use of certain wireless telecommunications devices for text messaging and social networking prohibited
A.(1) Except as provided in Subsection B of this Section, no person shall operate any motor vehicle upon any public road or highway of this state while using a wireless telecommunications device to write, send, or read a text-based communication. For purposes of this Section, a person shall not be deemed to be writing, reading, or sending a text message if the person reads, selects, or enters a telephone number or name in a wireless telecommunications device for the purpose of making a telephone call.
(2) No person shall operate any motor vehicle upon any public road or highway of this state while using a wireless telecommunications device to access, read, or post to a social networking site.
(3)(a) "Wireless telecommunications device" means a cellular telephone, a text-messaging device, a personal digital assistant, a stand alone computer, or any other substantially similar wireless device that is readily removable from the vehicle and is used to write, send, or read text or data through manual input. A "wireless telecommunications device" shall not include any device or component that is permanently affixed to a motor vehicle. It does not include citizens band radios, citizens band radio hybrids, commercial two-way radio communication devices, two-way radio transmitters or receivers used by licensees of the Federal Communication Commission in the Amateur Radio Service, or electronic communication devices with a push-to-talk function.
(b) "Write, send, or read a text-based communication" means using a wireless telecommunications device to manually communicate with any person by using a text-based communication referred to as a text message, instant message, or electronic mail.
(c) "Access, read, or post to a social networking site" means using a wireless telecommunications device to access, read, or post on such device to any web-based service that allows individuals to construct a profile within a bounded system, articulate a list of other users with whom they share a connection, and communicate with other members of the site.
B. The provisions of Paragraph (A)(1) of this Section shall not apply to the following:
(1) Any law enforcement officer, firefighter, or operator of an authorized emergency vehicle while engaged in the actual performance of his official duties.
(2) An operator of a moving motor vehicle using a wireless telecommunications device to:
(a) Report illegal activity.
(b) Summon medical or other emergency help.
(c) Prevent injury to a person or property.
(d) Relay information between a transit or for-hire operator and that operator's dispatcher, in which the device is permanently affixed to the vehicle.
(e) Navigate using a global positioning system.
(3) A physician or other health care provider using a wireless telecommunications device to communicate with a hospital, health clinic or the office of the physician, or to otherwise provide for the health care of an individual or medical emergency through a text-based communication.
C.(1) The first violation of the provisions of this Section shall be punishable by a fine of not more than one hundred seventy-five dollars.
(2) Each subsequent violation shall be punishable by a fine of not more than five hundred dollars.
(3) If the person is involved in a crash at the time of violation, then the fine shall be equal to double the amount of the standard fine imposed in this Subsection and the law enforcement officer investigating the crash shall indicate on the written accident form that the person was using a wireless telecommunications device at the time of the crash.
(4) Any violation of this Section shall constitute a moving violation.
Acts 2008, No. 665, §1, eff. July 1, 2008; Acts 2010, No. 203, §1; Acts 2013, No. 62, §1.